Taking some time out from reading the doom and gloom about our Property Market  is a must for any property investor.  We know Journo's like Bernard Hickey will always bring us back down to earth however for now let's celebrate the success Auckland had at the recent Architectural Designers Awards.  Seven awards went to the region.
Graham Sawell of Pyramidz Architecture Design designed this wonderful 300 square metre plus seaside home.  It's owners wanted a property that would accommodate their need to work from home and also have long and short stay guests.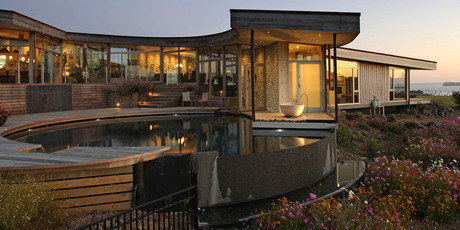 The house has passive solar heating and ventilation and was developed around environmentally sustainable principles. Renewable and recyclable materials were used in its construction.
Another home that faired well at the awards was Mark Callander of Creative Arch's 'boat house' design.
A property in the 150 – to 300 sq metre category featured a two story boat house feel with clean gable forms in roof lines and wonderful indoor outdoor flow and use of living and sleeping spaces.
Obtaining homes like these award winners is achievable.   PropertyTutors Limited mentors Sean Wood and Steve Goodey are sharing their experiences online. There are lots of blog posts on Sean Wood and how he got started as a property investor right here on this blog.   They also run The Masters event in Auckland and Wellington twice a year.  You can also download their eBooks.
Here is the latest eBook by Sean Wood and Steve Goodey – Top Property Investing Lessons >>>download now<<<